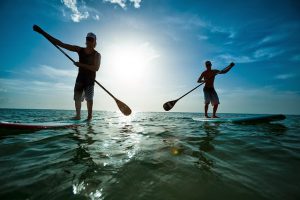 "The waves whisper to me, calling me to the soft sand.
The water sweeps over my feet, surrounds where I stand."
Joseph Malolo
Once you are in the Algarve, You can't miss the chance to do a Stand Up Paddle board tour with Freeride SUP!
With The help of our experienced and professional SUP guides you are going to be able to explore one of the most amazing landscapes in the Algarve, right here next to our SUP Center! Te Stand Up Paddle boars is easy, fun, and available to most of the ages.
The Stand Up Paddle boarding is a great exercise that offers a complete body work out, on the same time is a exciting and adventurous way to explore many different types of water ways here in the Algarve.
Discovering the Algarve on a Stand up Paddle board (SUP) will let you, alone or with friends or family to experience the scenery in a unique and environmentally friendly way exploring the secret beaches, caves, and wildlife (sometimes we see dolphins) around the Sagres area.
Take a SUP tour along the stunning coastline of the Algarve, exploring hidden caves and wild beaches.
Along with the Tour our SUP Guides will also give you some initiation on the Stand Up Paddle technique, like how to safelly paddle the board into the shallows; Basic paddling technique on your knees and moving to standing on the paddle board and improving your your paddling proficiency, steering and getting the board to glide.
So many many reasons to enjoy a great Stand Up Paddle Board tour with us here in the unspoilled extreme of the Algarve!
Pickups from Freeride Surf Center @ Memmo Baleeira Hotel in Sagres or other locations (upon request).
Visit our Freeride SUP Tours official website!